Panel - Wheelhouse - Outer (ML3Z-9927886-A)
Ford Panel - Wheelhouse - Outer (ML3Z-9927886-A)
Superior Quality
The Ford ML3Z-9927886-A is a curving panel found under your vehicle's fender that surrounds the vehicle's wheel. Also called a wheel well or inner fender panel, the wheelhouse is a body panel that is used to fend off anything such as dirt, stones, gravel, water, or other minor impacts from the wheel while driving. It helps protect your vehicle's quarter panel, fenders, hoods, and engine bay by cutting off these potentially damaging objects from damaging your vehicle. It functions similar to a bumper, in protecting more valuable components in your vehicle. Ford's ML3Z-9927886-A wheelhouse panel is an excellent addition to your vehicle and is an original product designed to fit your vehicle correctly. It also performs to Ford's decades-old standards and service. The ML3Z-9927886-A is designed to last longer and offer long-lasting performance benefits. This genuine Panel - Wheelhouse - Outer (ML3Z-9927886-A) is a direct-fit replacement designed and guaranteed by Ford to provide optimal quality and performance to your Ford vehicle.
Panel - Wheelhouse - Outer (ML3Z-9927886-A) Features:
Brand new genuine OEM Ford Side View Mirror Motor
Fits power operation mirror
100% vehicle fitment accuracy when provided with your VIN
Made from high-quality materials
Made to original factory specifications for your vehicle
Built to strict quality control standards
Guaranteed by Ford's Limited Part Warranty
Guaranteed Vehicle Fitment
You can be guaranteed that every genuine OEM part on TascaParts.com is made to exact safety, quality, fit, and performance specifications provided by the auto manufacturer's engineers.
Finding the right fit for your car is as easy as entering your Vehicle Identification Number (VIN) and letting our website do all the work.
Worldwide Shipping
Don't live in the United States? No worries!
We can ship around the corner – or around the globe.
Unbeatable Pricing on Every Part for Every Customer
Our prices are as low as you'll find.
We WANT you to be able to take care of your vehicle. And we know it can be expensive. So we've done our best to make finding the right auto parts easy and affordable.
Shop TascaParts.com today for the best OEM Ford prices around!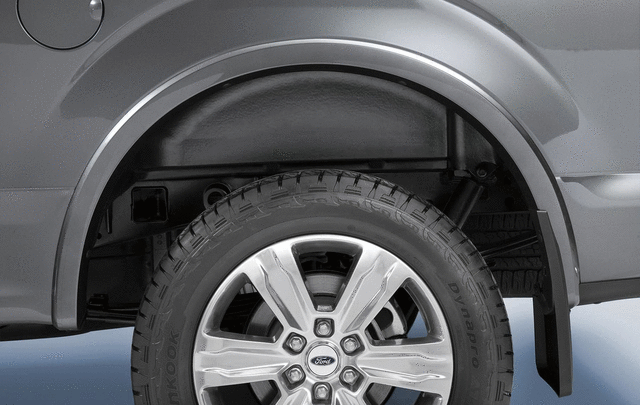 Wheel Well Liner - Rear Pair
Options: Outer
Other Names:
Panel Wheelhouse Outer
Description:
Ford Accessories are selected, approved and recommended by Ford Motor Company. They provide an optimal fit and exceptional quality. N
No results found for "ML3Z-9927886-A". Here are some helpful search tips:

Search by a part name. Example: water pump.
Be less specific. Example: brake instead of ceramic brake.
Remove information such as make, year or model.
Can't find the part you are looking for? Contact us and we'll find it for you!